I mentioned this sasanqua in an article Camellias for Dwarfs and Elves that was published in American Camellia Yearbook 2011: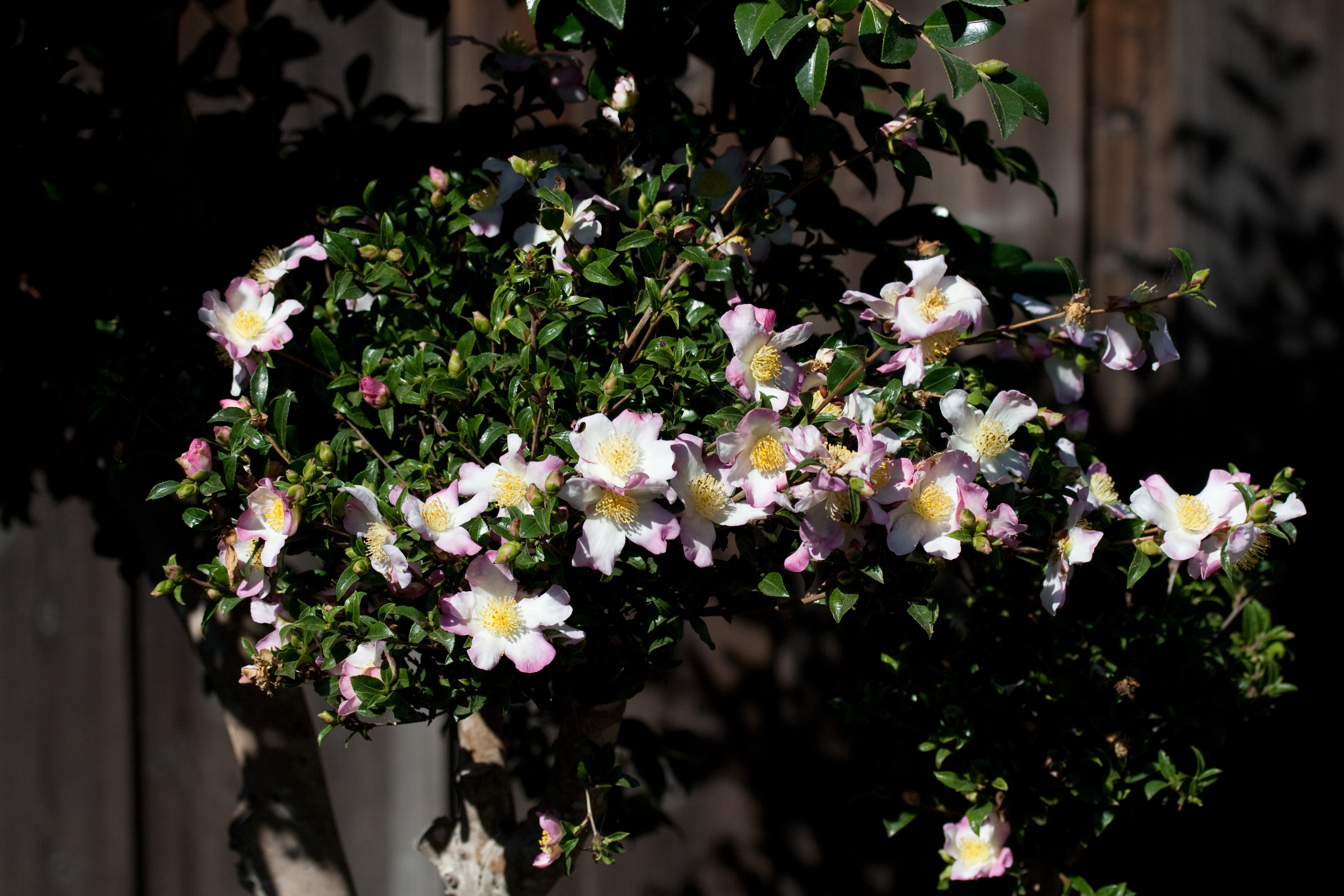 'Jewel Box' is the smallest of sasanqua cultivars – its typical leaf is just 30×12 mm as comparing to a more regular leaves of sasanqua cultivar 'Jean May' that measures 62×28 mm or a typical Camellia japonica leaf of 'Kamo Honnami' that measures 90×60 mm. 'Jewel Box' originated in Nuccio's Nurseries, California. It produces a lot of somewhat wavy single white flowers, sometimes with a pink tint on the border. It appears this cultivar was used to decorate Japanese garden in Huntington Library and Gardens in Sam Marino, California. This garden has the healthiest and best maintained 'Jewel Box' planted between rocks along the sidewalk.
'Jewel Box' does produce seeds and these seeds sprout, so the cultivar can be used for breeding. However the seedlings are very delicate and easily die when overwatered. The plant's root system is not very strong, so it is important not to overwater, over-dry or over-fertilize the plant. When grown under sub-optimal condition, this plant frequently shows chrolosis (yellow blotches on leaves) or even have deformed undeveloped leaves. It is difficult to say whether it is a genetic feature, or a result or some virus infection that are frequent among camellia cultivars and result in blotched flowers in pink camellias.
'Jewel Box' grows slowly but can be grafted, although it is not the easiest plant to propagate by grafting. Some grafts initially take, but stop growing next year and do not grow beyond stunted stage with a lot of almost opened buds, but no real sprouts. Some other grafts not only take and grow, but develop several large leaves before going back to the size of leaves normal for 'Jewel Box'. 'Jewel Box' may be an interesting subject for a researcher to try different plant hormones – synthetic auxins, gibberellin, etc.
Yuri Panchul. Camellias for Dwarfs and Elves. American Camellia Yearbook 2011